Flow 75 Olive is equipped with Optimum Flow™ technology for exceptional drainage. Flow 75 Olive is our preferred product for pet applications due to its permeability and slightly stiffer blade structure which makes cleaning a breeze. This product is also perfect for landscaping, putting fringe, and anywhere else a medium density product is needed.
PRODUCT INFORMATION
APPROXIMATE TOTAL WEIGHT: 75 OZ.
APPROXIMATE PILE HEIGHT: 1.5 IN.
BACKING: OPTIMUM FLOW™
FIBER: POLYETHYLENE – W BLADE
INFILL: 1 LBS/PSF
WARRANTY: 16 YEARS
ROLL WIDTH: 15 FT
?? MADE IN THE USA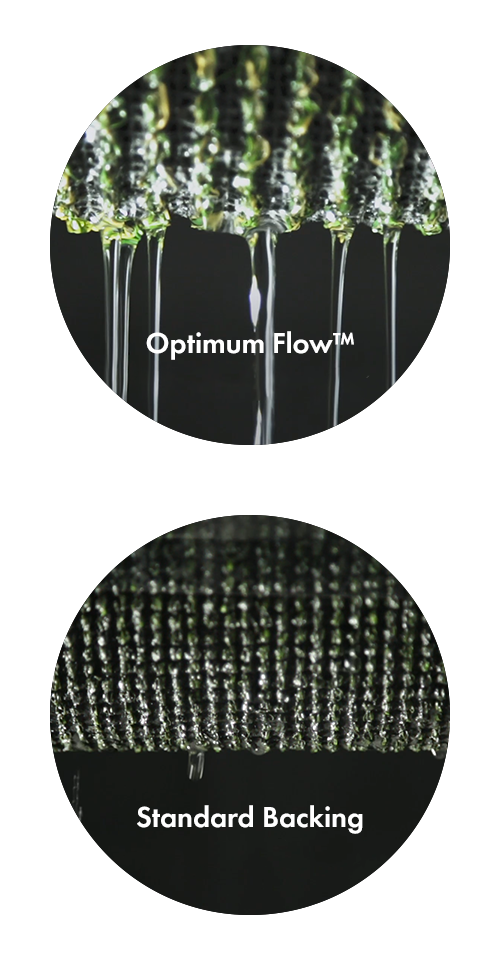 OPTIMUM FLOW™ DRAINS
8X FASTER
Optimum Flow™ Backing: 250″ of Water / Hour

93%

93%

Standard Backing: 30″ of Water / Hour

16%

16%
Optimum Flow™ is our non-perforated backing that will drastically affect the drainage efficiency of your turf. With the new patent-pending Optimum Flow™ backing that increases the drainage rate by approximately 830%, the turf will be cleaner, drier, and free from any unpleasant pet odors.
Installation Photos
(photos coming soon)